Back in the saddle … and similar cliches
Posted Jun 10 2020, 3:03 pm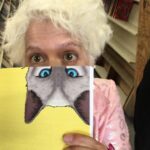 I've been missing in action (cliche 2) for a bit. But I'm back at both writing books (with fingers and toes crossed for publication — cliche 3) and keeping my web pages up-to-date.
First up, I wrote two short stories for a cat-centric book featuring bookstore cats: Squeekie and Annika from Cupboard Maker Books.
Second up, the Bull Rider's Redemption has been re-issued in a two-book package with the awesome Cathy McDavid as Arizona Country Legacy: The Bull Rider's Honor.
Third up, I may try something new on the blog featuring my local community theatre … I'm still working on that idea.
No Comments
Comments