Home on the Grange: Clabber Girl
Posted Aug 12 2016, 1:34 pm in recipes
I saw this title and couldn't resist: Clabber Girl Drop Cookies — especially because when I saw it I read it as CLOBBER! Know why they are Clabber Girl? My guess is that it was a recipe from the Clabber Girl company (which makes leavening agents). In any case, here is the recipe from the 1950 Pennsylvania State Grange Cook Book: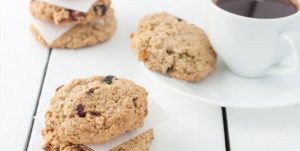 Clabber Girl Drop Cookies
1 cup shortening
2 cups brown sugar
2 eggs
1 cup buttermilk
1 cup raisins, chopped
1/2 cup nut meats, chopped
4 cups flour
1 teaspoon nutmeg
1 teaspoon vanilla
1/2 teaspoon salt
1 teaspoon baking soda
1 teaspoon baking powder
Cream sugar and shortening, add eggs [the baker doesn't say when to add the vanilla but I think it would be here]. Dissolve the baking soda in buttermilk [this is what it says, but I think there may be a foamy reaction]. Sift flour, baking powder, salt and nutmeg, then add all together [wet and dry ingredients]. Add nuts and raising. Drop from spoon on cookie sheet. Bake 12 minutes in 325 degree oven.
No Comments
Comments