Memorial Day 'Tasty' Treat
Posted May 26 2016, 1:13 pm in recipe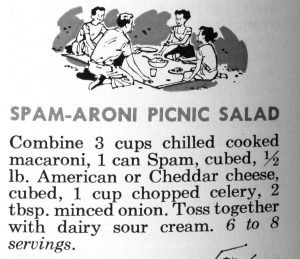 With the picnic-friendly holiday like Memorial Day, here is a recipe that I found in a Let's Eat Outdoors pamphlet (from the late 1950s/early 1960s — I think). The recipes are from a range of food companies but, of course, I couldn't resist the Spam recipes. So how about some Spam-aroni!
SPAM-ARONI PICNIC SALAD
Combine 3 cups chilled cooked macaroni, 1 can Spam, cubed, 1/2 lb. American or Cheddar cheese, cubed, 1 cup chopped celery, 2 tbsp. minced onion. Toss together with dairy sour cream. 6 to 8 servings.
No Comments
Comments